My Mother's Handiwork
The granny square afghan on the right was her way of using up her wool scraps from the previous afghans. The granny on the left is Lucy from Attic 24's Cupcake selection of Stylecraft Special DK wool. My wish would be that I could still be making lovely warm gifts for family when I am her age.
Choosing Drapes
Before I continue I should tell you that I've always had rather bland drapes. I tend to err on the side of safe so gray, beige, off white are often the colours I've used for curtains. And for many years, I used only lace curtains in cream or white on all my windows.
But this house, with no painted walls, presented a different kind of issue for curtains.
There are two very large windows in the main area where the kitchen, dining and living room are. Because of all the wood, I knew the space could use real colour in the drape material for contrast. This was my chance to stray from the safe and do something a little more exciting with a window treatment.
Since I love Jacobean design, I immediately liked these panels from Wayfair but they were very pricey.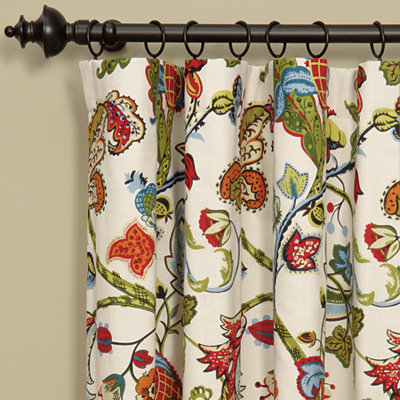 I do love all the colours used to work up the various floral motifs.
I kept looking and found another fabric at Ikea that I also liked. The patterns are not quite as intricate but the colours are bright and interesting. And the price was wonderful.
These are Rodarv curtains. I had to hem the four panels and I confess I did it the easy, no sew way by using fusible strips.
I love the colour palette and there are definitely great quilting/embroidering motifs all over it.
How lazy was this? I put the panels on the rods and set up the ironing board. I measured, cut and ironed on the Heat n Bond right there. It took me about twenty minutes per panel. I measured to have them reach almost to the floor with a one inch hem. And when I had the measurements worked out for the first panel, the other three were a breeze to fix.
I'm going to make a valance for the kitchen window from the material I cut off. One of these days I'll get a better photo of the curtains against the wood so you can see how they work in the room. I worried they would look too 'busy' but no fears, the large area swallows them up.
They really are cheerful. Hubby called them 'cheap and cheerful', an expression from his mother. I think they were about $40 a pair, cheap enough I could have another set for the winter months...something less airy and a little wintry perhaps.
What do you think?