For a show to qualify as a good show to stitch to, it must be rather dialogue heavy. Understanding the gist of the story without a lot of visuals is the name of the game. If a car chase or creepy props are essential to the plot than it isn't the best show for my purpose. I need to keep up without having to constantly look up.
Dr. Foster
The story of a GP who finds out her husband is having an affair. This was planned as a mini-series but the huge ratings have pushed BBC to say another series is going to be made. While some found it a tad slow, I personally loved the build up. And there is something almost voyueristic about watching the rawness Suranne brings to her scenes. She is truly suffering with the knowledge that a man she adored and admired (and thought it was same for him about her) could betray her.

Place of Execution
More familiar faces in this one...Juliet Stevenson we've watched in many programs (
The Politician's
Wife
comes to mind) but it was fun to see Lee Ingleby again after watching him in
Inspector George Gently
.
This is a crime drama playing out in a village where a young girl disappears. We enjoyed it very much on Youtube.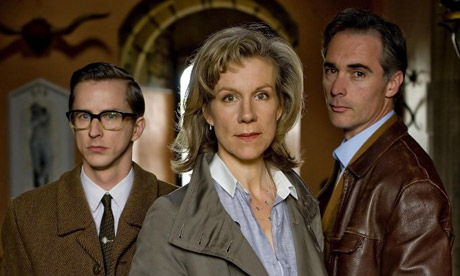 The Last Enemy
This is another of those "who can you trust if you can't trust your own government" kind of shows. Benedict is great as a mathematical genius trying to discover more about his brother's sudden death and of course, there is much more than meets the eye. It gets a little convoluted before you are shown the whys and wherefores, but we liked it.
William and Mary
This is the perfect 'stitching to' show...the charming story of how two people, a little older and with children, manage to meet and make a go of it. Martin Clunes is a favourite and we enjoyed Julie Grahm in The Bletchley Circle so much.


Friday Night Lights
This is one of our favourites...
You don't have to know anything or even like high school football to enjoy this show. The up and down lives of the adults and team members in small town America are portrayed in a way that pulls you in. It is sad and heart-warming. Wonderful acting and I also like the way the scenes are shot with a lot of interesting close ups and angles. This made me actually watch sometimes during intense scenes. Kyle Chandler and Connie Britton need no introductions.




We watched three of these on Youtube...William and Mary, Place of Execution and The Last Enemy.