Buying fabric just to own it is a relatively new activity for me.
Before my Blog, I mostly bought only when I had pattern in hand and knew exactly what I needed to get the sewing job done. Since I've had the world of fabrics presented to me, I am in awe of the beautiful designs and patterns. I sometimes jot those down in a list I keep on my computer. This comes in handy at sale times.
Here are a few that have turned my head. I'd have to get over my fear of cutting into them.
Tilda's Sweetheart
There is something traditional in her work yet modern and fresh.
And another colour way...
Autumn Tree
Winter's Lane by Kate and Birdie Paper Co.
The birds, the birds; why do I love all fabric with birds. This would be perfect for Winter/ Christmas projects, I think.
This is
Sweet Charlotte from Robert Kaufman
fabrics. There is something about browns with pinks that appeals to me. These are so pretty and would work well with Baltimore album type applique. At least that is what popped into my mind when I looked through the selection.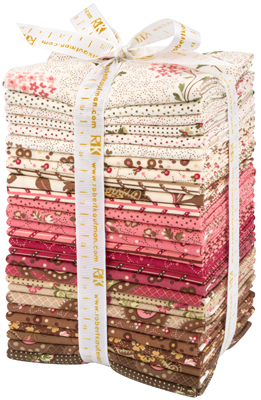 It's the time of year when all the stitch-a-longs get announced. There are several good Pinterest boards people have made that are very helpful in cutting down some of the internet legwork yourself.
Just go to Pinterest and type in stitch-a-long or BOM and you will find them.
Here are a few more that I have noted.
The Honey Pot Bee BOM
Mollie Sparkles
is hosting an absolutely free BOM featuring monthly designs by some of the biggest names in quilting. This one promises to be a little different from the usual patchwork patterns and of course, the real beauty of this is you can download the patterns and work them at your own speed. There is a facebook group to join and lots of tutorials for support.
First Block, "Strawberries" by the
Gnome Angel.
So sweet.
"Foxley Village 2016" BOM
was designed by
Natalie Bird
and though the BOM aspect is finished, you can still get the patterns and kit from
Australia Homespun
magazine. I just about swooned when I looked through some of the monthly features in that magazine by the way. Gorgeous little projects. And I guess foxes are still turning a lot of heads.
Linen and Threads Mystery Sampler Stitch a Long
Here is a
free
mystery cross stitch Stitch- A- Long.being hosted by the folks at
Linen and Threads Web site
.
They are releasing one band a month for the 2017 year.
Below is
Maggie Hillock
's version of Part 1, January- the first band. The colours she chose are so pretty and her work is lovely. I've joined the Facebook group and am enjoying seeing the same pattern rendered in pretty much all the colours of the rainbow. So creative.
Well, isn't it a joy to have the internet linking all the wonderful designers with all of us who enjoy stitching. My days are enriched when I can spend a little time ogling and daydreaming about the wonderful new projects. How generous too so many are to offer their ideas for free.
Tuesday, January 31, 2017 finds me feeling thankful for all of this.