I loved Halloween as a child. I wasn't a big sweets eater so it wasn't the candy that drew me to the occasion. It was more the fun of the evening. Meeting up with a couple of friends and roaming around the streets after dark!! seemed to be so exciting.
In the days leading up we drew and coloured pumpkins and Mom would let us stick them on the windows. I loved some of the Halloween designs we'd sometimes get to colour in school. My favourite included the spooky house with the Halloween moon and witch flying across it like this one below. You could really go to town making that moon so yellow.
Decorating for Halloween has become such a huge thing, second now to Christmas. No end to the store bought items you can purchase for the season and I mean season because now it seems like autumn and Halloween have melded into one long event.
When I was a kid, they were basically home made Halloweens. I don't remember much in the stores to buy and even costumes got cobbled together with what was around the house. But we did buy masks; awful rubber things that made your face sweat.
I want to share some home made Halloween designs with you. Making things is always good fun and like so many moms, I have fond memories of making the daughters' Halloween costumes each year.
So getting to spooky houses...
Felt With Love Designs
offers this very cute little design along with the tutorial for making it.
This is
Katie Hennagir's
new fabric line for
Andover Fabrics
and it prominently features a spooky house.
It's easy to sew projects for each season if you start with fabrics like this that have great motifs incorporated.
Click here to go to Andover Fabric's page of free patterns including these.
Below is a free downloadable pattern offered by
Cathe Holden
at her site called
Just Something I Made
. This is the spooky house rendition but the pattern can be used for any kind of house.
Go
Here
to see this and other free patterns this talented lady generously shares to her readers.
And from Pamela and Nancy, the ladies behind the famous
Prairie Schooler
, is this fabulous Spooky House in their
All Hallows Eve
cross stitch design. They are retiring, by the way, after over 30 years of creating some of the best loved patterns in the business.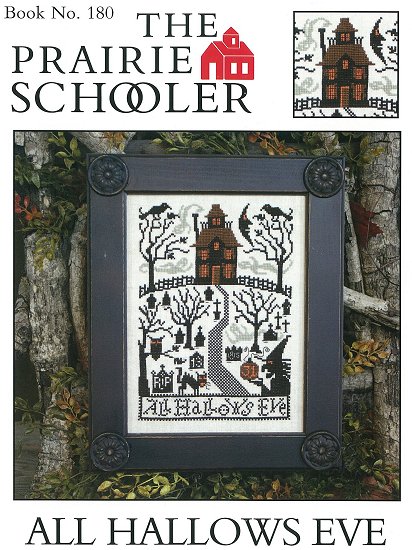 Hope those of you celebrating tonight, enjoy good fun.
I'm expecting a very special little trick or treater at my door.