Last weekend I did some on-line shopping. Here's what I purchased-
The 32 count confederate gray linen for my next cross stitch project,
Strawberry Fields Forever
by
Blackbird Designs
. With much trepidation I might add. Can these old eyes of mine manage this low a thread count. My Ott Lite is good but is it good enough. These were my thoughts even as I was pressing the buttons that took me towards CheckOut and the final sale.
French General Petite prints
I ordered these one day and they arrived 4 days later. I was so surprised to see the package sitting in our mail slot so soon. Craftsy is good!
I've been eyeing these for quite some time. Lovely little prints perfect for backgrounds or small applique.
A Hera marker like I've shown you before.
A Clover bias tape maker which is useful for making those lovely winding stems and tendrils when appliqueing. Here is Londa demonstrating how it works. Could I fool this up?
So with these purchases, I am getting 'kitted up' in the tool department. Then it will be putting them to good use.
I have read granny square ponchos are very popular again.
The idea of everything old is new again is interesting to me. In my second year of university I had crocheted myself a very long scarf made of granny squares...black and burgundy and lots of people commented on it. But it was a time when many were sporting these type ponchos. Sort of the tail end of the hippie thing.
Certainly is colourful and easy to make. This one is available to buy on
ETSY
.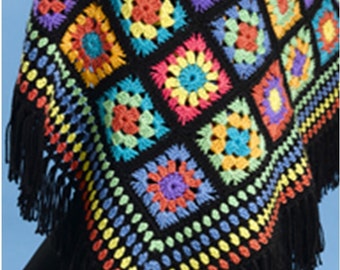 A quick note about my crocheting. I've not found my hexagons that I made before the move (remember them?). I've found the left over wool and other bits of wool, but none of the finished pieces for that particular project.
But I'm not worried; I know they are tucked away somewhere to be revealed sometime when I'm on the hunt for something else. That's the way I find most things!
I also got Hubby out for a lunch at a popular Indian food buffet restaurant here in Ottawa called the
East India Company
.
It was so good. The only odd thing was you have to pay for the Naan bread separately but it was so worth it. They also offer a very nice chutney selection which we sampled. The mango was delicious.
Love Indian food; how about you?
That was last weekend. Not sure yet what this weekend holds.
Whatever is in
your
weekend, hope it is good stuff.