It is so easy to write this post...turns out I have very many likes in this world! How about you? Perhaps you'd like to share a post of likes too. I'd love to read them.
I Like Allie's Tulips
When I saw this pattern the first time dear Allie posted it, I loved it. What could be better for making us hopeful for spring than seeing lively tulips. It makes me smile when I look at it.
I couldn't resist; I had to order the pattern for this pretty little hanging from the
Allie- Oops Designs Shop on Craftsy
. Check out her Lemon Tree pattern while you're there; it's gorgeous.
What's stopping me from making it already? I don't have any kind of greens like this. I have the pinks/reds but all my greens are dark moody ones. Springy greens are now on my fabric wish list.

Yet Another Pretty Feather
While I searched for the origins of this embroidered feather, I was thinking what a great project it would make for the
Stitch A Day SAL
happening this year. It is so pretty and the colour choices are masterful. I couldn't find any information on it but it looks to me to be worked on Aida cloth. If you find out more about it please let me know so I can credit the wonderful artist.
This is the only link I was able to track down-
Fortags
.
Yes, this is a three ingredient chocolate mousse. I haven't tried it yet but I did buy one of those huge chocolate bars and a container of whipping cream to give it a try this weekend. Sadly I always have marshmallows on hand. Can't go wrong, I figure.
Raised Garden Beds
It's time for raised garden beds. I'm contemplating these for this summer. I've even picked out where I'd position them in the garden to get full day sun. Made of cedar and available in different sizes, they are shipped free from Wayfair. I like that.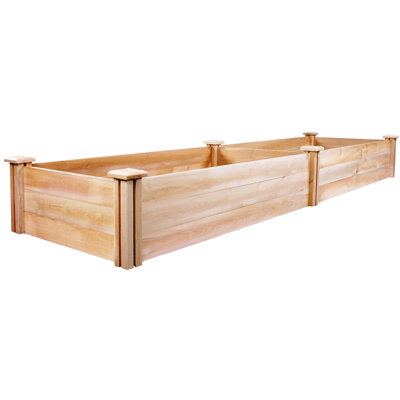 I Like Cake, well who doesn't like cake!
I wanted to end this post with this...what could be better than an absolutely beautiful cake. Only way this could be better is if I could have a piece, maybe a big corner piece!
This was the annual birthday cake made by the
William Morris Society of Canada
to celebrate his birthday on March 24th. Three ladies from the society always make the cake from scratch and to date have made thirteen. Go
here to view all the wonderful cakes made over the years
but be forewarned, it will make you want to eat cake.
Don't forget to drop by
LeeAnna's Not Afraid of Colour
site to see all the wonderful end of March Likes that are being posted.