Look at that Date, March 13, wow!
I must be on a horse because this year is galloping along. There just doesn't seem to be enough hours to get everything done...I love all my projects so much. And I'm still enjoying my post here at the Wooden House as chief cook and bottle washer, and laundress, vacuumer, dog walker and snow shoveler, etc., etc.
And of course, it goes without saying, loving my Nana time too. It sounds busy written down but really retirement does mean a lot more "me" time.
Another freezing weekend with no melting whatsoever. Our walks, while brisk, were invigorating. Yes, I was bundled up just like I showed you. And so good to get back in the house afterwards, put the kettle on and warm up with woolies and hot tea. I'm being careful to cover my face and except for a redder than usual nose, my cheeks are fine.
This is why so many Canadians, especially my age, become Snowbirds. But that being said, I love our four seasons so I must be a little bit crazy.
We just did the dreaded Spring Forward with our clocks and lost an hour a day. I keep reading it is stressful and causes a spike in accidents and heart attacks on this Monday so why we do it is being questioned more and more. Seems more detrimental than helpful but I don't know what it would take to change it.
Someone sent me this Etsy link after seeing my owl post. It is a handmade owl floss organizer with a rare earth magnet for your needle...
Girlontherocks Etsy Shop
for $13.85. Seems like something I should own, right? Especially since I do not have such a thing now. I'm also curious about that cross stitch behind it.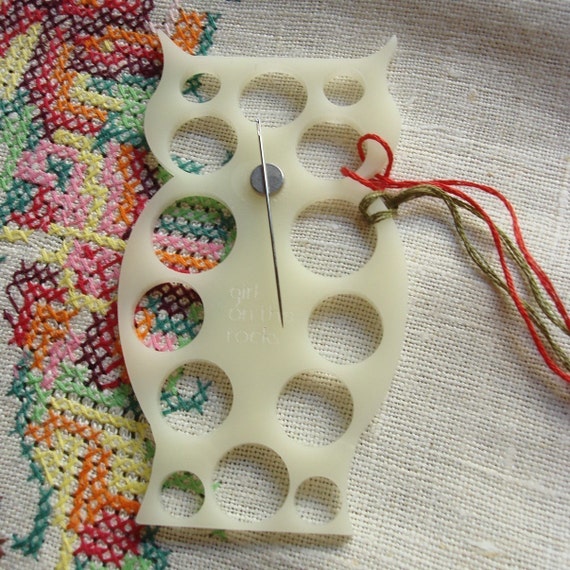 And I do lose needles all the time. I am often on hands and knees searching with a flash light for the tell tale little metal gleam somewhere on the floor. I don't know why, but sometimes needles just flip right out of my fingers. A fairly new but not enjoyable phenomena!
I had no idea until recently that you could buy these special Ott light bulbs that work just like regular bulbs in any lamp, or at least that is my understanding. Someone correct me if I'm wrong which I hope I'm not. What a great idea to be able to give yourself as close to natural light with any kind of lamp. And they can be bought all over even Lowe's.
In fact, Lowe's bills them as "natural daylight indoors" and I will be on the look out for them. You know how us "mature" stitchers are obsessed with having enough light or the right light.
I know this knitting project is exceedingly simple but I am enjoying it. Just as I tire of one colour, my 6 inches are done and it's time to move to the next colour. But I am going easy on my hands...for some reason knitting wakes up a few twinges that the crocheting doesn't. I am basically knitting just the 6 inches a day which should be fine, shouldn't it.
Scarf #1 getting there. That represents some great Netflix viewing right there.
I just have to try it on a bed to be sure it will be big enough to cover a double size...eventually.
Hope your Monday is the best that any Monday can be.