We have just finished a week of glorious weather...sunny with low to mid 20's with a little breeze. No intense heat or humidity. I loved it and spent oodles of time outside puttering around and down by the pond with my camera. It made me think of summer days in my childhood...how we loved them!
Before I forget, Hubby got a message from his GP; absolutely nothing wrong with his heart so it can be ruled out as a cause of his tiredness. We are very thankful for this news and also grateful to all who asked and sent good wishes.
And to think I find it hard enough to quilt on earth...
Karen Nyberg, who not only has the right stuff, is also a sewist. In this video she talks about the challenges of quilting in zero gravity and I'm so impressed with her final red, white and blue square.
And in my stitching news, I'm so happy to report a finish. Since this one was so close to the end I put a rush on and got it done.
The red and white polka dot fabric was an obvious choice for the final border. And just for fun, I cut the letters for SUMMER out of it too. I did a little FMQ...straight lines through the squares. a curvy one through the sashing and a zig zag through the final edge. (I tell myself when I get better at it, I'll venture in and around the applique.) And in real life there are not those pouches under those bottom baskets...you'll have to take my word for it.
So happy the son in law is back to keeping chickens for the summer. Younger grandson is getting quite good at corralling and feeding them, and gathering eggs...and washing his hands after as he pointed out to me. Each hen, this time round, lays a different coloured egg so they know who is laying or not. They have fresh eggs for what seems to be small efforts.
Can't get all 4 of them at once out of the coop for a photo, it seems.
The wonderful Mary Corbett over at
Needle n Thread
gave this colouring book a great review and I've taken a look at it on Amazon. Great drawings and lots of opportunity to pluck out motifs here and there to use in applique or embroidery. The love of everything Morris continues.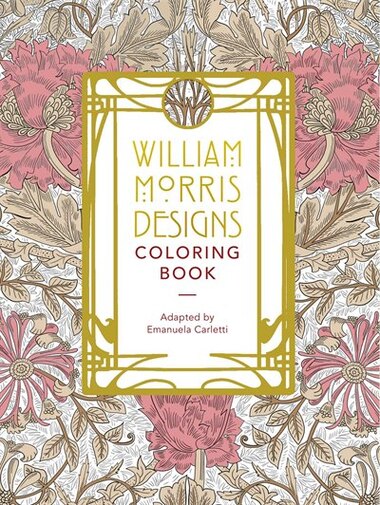 And though I'm not going on a jet plane, I am going for the annual train ride- my absolutely favourite way to travel. Older grandson, his grandfather and I are off to Montreal and Quebec City for the next week.
Hope you are enjoying wonderful June whether it means summer or autumn for you.
As always happy to link up with LeeAnna's Thursday likes at
Not Afraid of Color
.