Tomorrow is officially turkey day here in Canada so Happy Thanksgiving to all celebrating the holiday with family today. Without the exciting drama of Black Friday or the quaint story of Pilgrims and Indians dining together, but with family and turkey and all the trimmings just the same.
Where I come from it includes a version of something called
Jiggs Dinner
which is
Boiled New England Dinner
in other places. My complaint, which I share with other Newfoundlanders, is that it is hard to find good salt meat here on the mainland(what we call the rest of Canada). By good, I mean a good meat to fat ratio.
Making me hungry looking at this!
For all my quilting friends with their beloved cats I just had to include this photo. (I tried to find the photo credit but could not; if you know it, please let me know.) Doesn't she look like a queen which is something cats are good at doing.
Quilting Inspiration
has the links for a bank of free patterns featuring turkeys and leaves.
I particularly love how dresden plate gets utilized for the tail feathers in this one.
New to Me
French General
Convenience
cloth is available with hexagons and no seams! It took me ages to clarify that what they really mean is a panel or cheater's cloth, but convenience is such a nicer name. A great piece to practice hand quilting a simple motif and so pretty for Christmas.
The Fat Quarter Shop
is selling it by the yard and I think I will order some for a table runner. Why? Because I don't have enough hand stitching to do!!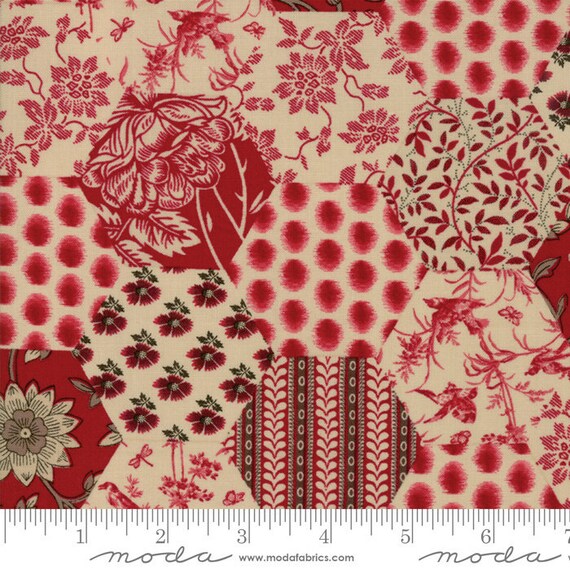 Speaking of which, stitching away on the
Scandinavian Redwork
blocks. Too bad there isn't a turkey block to show; have to make do with a hare instead.
And when we see the sun again (and I'm hoping that's not an if), I'll have to remember to take a bunch of photos. Also sorry to those trying to comment and it's not working. I've asked Blogger several times now to fix it. GRRR
Happy Sunday all! Linking this post with
Kathy's Quilts
,
Free Motion By the River
,
Small Quilts and Doll Quilts
, and
What a Hoot Quilts
.