I've had a few more comments about the Frivols photo. There is actually a
Frivols Club
being run by the
Fat Quarters Shop
.
The Frivols Club
will mail to you a collectible tin with 42 seven inch squares of designer fabric in each, plus the new block pattern and Moda quilt pattern. The little quilts made are sweet.
What do you think of these prints?
A little showing of the fabric I got in the mail. This is
Folk Blossoms
by
Connecting Threads
.
and
My photos are a little unclear so this is the catalogue photo.
It is an interesting mixture of large, medium and small prints and the range of colours is surprisingly large. It all coordinates so eliminates the guessing that stash diving entails, LOL.
Definitely an aspect I will love when it comes to putting my next blocks together.
Cutting into them will be a 'hold your breath' moment for me, though.
I told you I don't think my applique skills are up to my Morris book patterns. Here is a book I have that I think I'll start with.
Inspired By Tradition
by
Kay MacKenzie.
A great book with 50 block choices and the fabrics I now have will definitely work I'm looking at the bird motifs or maybe the baskets.
All About Applique
is one of Kay's online sites. There you will find a bounty of information about applique (and other techniques) as well as lots of patterns.
Quilt Puppy
is Kay's online blog where you can look at more of her other designs and books for sale. I'm loving this one featuring teapots.
Speaking of internet shopping...
This is from
The Thread Gatherer
Etsy Shop. It is a magnetic needle tray which is just about the best gift for a stitcher. I love the girl in blue dress stitching too.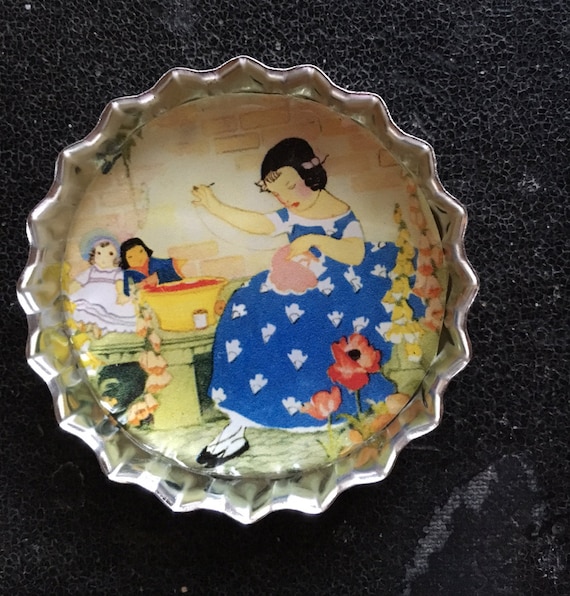 And Something Just to Ogle
Check out this beautiful pie. Too beautiful to eat was my first thought about this. It is from Vittorio Cambria and the link to their Facebook page is
HERE
. Just gorgeous, isn't it?