"Out from its sunned and sheltered nooks
The blue eye of the violet looks."
J.G. Whittier
The above photo is one of the many clumps of Dog Violets that dot the land. Such a pretty wildflower and all abloom in time for the May 24th weekend.
It is
Victoria Day
here in Canada. So
Happy Victoria Day
to all those celebrating. Making a holiday of the Queen's birthday is a part of our history. It also coincides with the start of summer and all the wonderful activities that accompany it.
I was looking at Beth's photos of Cedar Waxwings, a bird I love. You can view them at her blog,
Garden Grumbles and Cross Stitch Fumbles
. Barb, in the comment section of that post, mentioned
Notforgotten Farm
has a chart of Cedar Waxwings. Lor, the designer, explains in her design these are oranges and she envisioned them as clove studded. Here it is at her
Etsy Shop
and what a pretty design.
Just had to show you.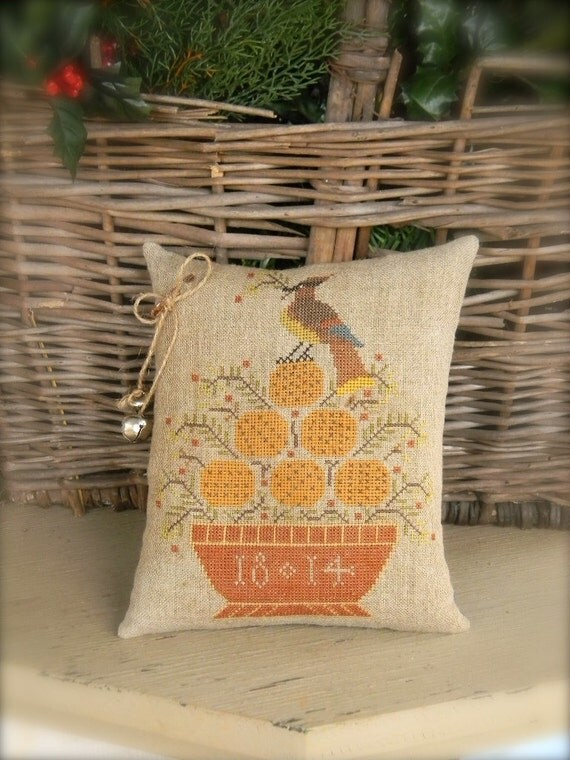 Other things...here are the final two large pieces of the quilt I wound up with with my 100 plus blocks. This is my least favourite part of the whole process...having to handle these large sizes of cloth and keep all the parts that must line up straight. It is a bit of a challenge for me which is putting it mildly!
I took a lesson from
Jenny
at
Romany Quilting
who uses lots of pinnings in her quilting process. So I used heaps of safety pins and it worked well for me.
Happily, most of my measuring is holding up and I'm not having to do massive unsewing, just a little tweaking here and there. This took a big chunk of time on Saturday but it was worth it to have a bonafide flimsy at the end of the day. Let me tell you, I breathed a big sigh of relief.
That also made me feel better about turning to my next project...an applique one.
It was a sunny weekend and our farmer friend was busy on the fields; no holiday for him. Whenever we spied dust flying we knew he was working.
And where ever he went he was trailing a rag taggle flock of gulls. A sight that brings to my mind fishing boats at home that always towed a line of gulls behind them.
What they are foraging from the bare field, I'm not sure. The plow must be turning up insects and worms, I imagine and gulls are opportunistic feeders. Did you know they have a jaw that they can unhinge in a similar fashion to certain snakes, so they can swallow larger prey?