It's been a very quiet time settling in again trying to catch up on all the household chores and kid sitting, etc. Also experiencing something that is the real mark of a retiree, I have my days all mixed up. It's been feeling like a Sunday now all week.
But so happy to have come home to spring all around us. Birds are twittering and the majestic pair are back on the pond silently gliding about. They disappear each evening-where to I don't know.
Two Phoebes are back nesting in the little pond garage rafters like last year. Such a sweet looking bird who very conveniently calls its own name.
This fellow has been visiting the front feeder each evening much to the dogs' excitement.
I must mention this book,
The Wonder
by
Emma Donoghue
, which I reread as an ebook while away. I enjoyed it very much and I think it is going to be a movie. It's about a nurse hired to investigate the supposed miracle of a young Irish girl living without food. A bit of a mystery combined with an exploration of belief systems.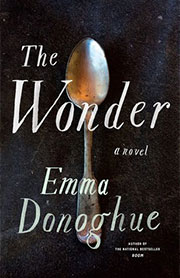 On Sunday I cooked a meat and roasted vegetable meal which we both enjoyed, especially Hubby after a week without. Lamb, a meat we like but don't have often. It is quite expensive here in Canada.
I've swapped over some of my winter clothes for summer things. Do you do that? We have a walk in closet but it isn't nearly big enough to hold everything year round which always makes me think I have too much.
I did get into the sewing room and worked on the sashing bits for the
Garden of Contentment
. I don't know why but when I use the machine, parts of my body begin to ache in no time. I was quite sore at the end of the session. I must be really out of shape!
Half the white strips are sewn on and I hope to get it finished today. It is certainly bright and cheery with all that flowery material. Of course I am second guessing using that deeper pink to outline the word
Hope
.
Why did I use it? I had the idea to highlight that word because I think it is so important for us as people to hold onto - for without hope what are we? The other words Allie chose are Peace, Gratitude, Mercy, Love, Joy, Faith and Grace. I guess it could be argued all are necessary for us to be truly human and humane.
I am always interested in how the camera's eye shows me things I don't see myself.
Several people asked about the online jigsaw
puzzle sites
I use. They are aps I've put on my ipad and I have Cool Puzzles, Magic Puzzles and the one I like best is simply Jigsaw Puzzles. They all offer a free daily puzzle and you can change the puzzle piece size to make them as challenging as you'd like.
It's Thankful Thursday at
Not Afraid of Color
,
It's A Small Town Life
and
Brian's Home
. And Thankful I am to be home safe and sound, too!
Also linking this post to
Sew Fresh Quilts
,
Quilt Fabrication
,
Anna Nuttall
,
Mersad Donko Photography
and
Esther's Quilt Blog
.