Thing 1
Just when I think I have heard of everything...living long like I have and all, along comes an idea completely new to me. Have you heard of
Bottle Cap Pin Cushions
? Perhaps you have and I am the last to know of this tiny but large phenomena.
They are absolutely adorable, require very little in terms of supplies and what a great recycling project. Each is individual and offers the freedom to get creative with the decorating.
Jen Segrest offers an excellent tutorial on Flikr
and the link is here
. I love the clever use of rick rack in these from Pine and Wine. What a cute gift for a sewist.
Thing 2
I saw this on Facebook and realized I never knew how the shuttle part thingie worked even though I've been using a sewing machine since my teenaged years.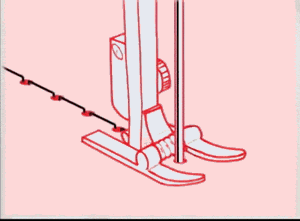 Thing 3
Just when I thought I'd sussed out everything sewing on the internet, I discover this.
A site completely new to me that is jam packed with free stuff...
All Free Sewing
offers a wide variety of patterns in all the sewing areas. All patterns are reviewed and given a time to make and a difficulty rating.
Of course, I went right to quilting and looked through the projects. This little appliqued hanging caught my eye. The instructions say this can be made in a weekend. Perhaps the fabric choosing and drawing and cutting the shapes, but I don't think I could get it all sewn in a weekend unless I was machine sewing it. Love the pattern and fabric choice in this one.
I also looked through the embroidery section and found this little project.
Of course there are oodles of projects to find on the two really hot topics in the quilting world right now....
quilt-as-you-go
and
stash busting
.
Whatever your stitching interests,
All Free Sewing
is worth checking out.
And in other news....
I came across a knitting pattern called
Quest For a Man
. I found that amusing- knitware to bolster the man search, I thought. It's really quite a cute pattern from Laura Nelkin and you can find it on the awesome
Ravelry
site. Actually,in reading Laura's post about this, I think her original pattern was called Quest and she updated the instructions to make it suitable for a man, not the way I read it.
Either way you read it, it makes good,warm headgear for the man in your life.
Laura's blog, Nelkin Designs is beautiful, It is very fleshed out with tutorials, videos, projects, kits and even her reading/listening/watching lists.
HERE
is the link to check out her lovely offerings.
You remember my Granny Stripe crocheted blanket with the fiesta bright colours. How could you not...it was a part of my life and thus this blog, for about 4 months. Anyway, I saw on Pinterest a version of it done in shades of grays and white, a very cool kind of palette.
It didn't look at all like my blanket. It looked like it belonged in a condo or some sparsely scandi-decorated posh house.
I was floored by how colours completely change the look of a thing. Colour choice is sooo important to the finished product.
Lastly...
February Weather Forecast Via Old Farmer's Almanac
"Groundhog found fog.
New snows and blue toes.
Fine and dandy for Valentine candy.
Snow spittin'; if you're not mitten-smitten,
you'll be frostbitten!
By jing-y feels spring-y."
―
Old Farmer's Almanac
This has all happened here already and it isn't the halfway mark of the month yet!
All good fun.