I like this quote.
I like it because it shows the difference between dating and having a relationship. Opposites may attract but it is more often the sharing of values, goals, how we view our roles and the slogging through all the minutae of our days that makes a relationship strong and calm. Yes,
calm and strong
...that's a pretty good goal for any couple, imo.
I like Victorian or British Sponge Cakes
.
I like desserts that are versatile and you can use whatever you have on hand, A Sponge cake is pretty basic and adapts well to many toppings...frosting, custard, ice cream, fruit or any combination of these.
You can read my post and the recipe I use
HERE
. It's a recipe that has never failed for me.
I like cozy
...cozy anything but especially flannel nightgowns and pyjamas and lounging pants, bedsheets too. Add to that fleece. Maybe it's because we have real winters here in Ontario with snowfalls and freezing temperatures for a lot of December, January and February that cozy is important. Cozy inside the house, cozy in our clothes. Warmth and Comfortable too. My clothes have to be comfortable, translate loose. lol
This is something I've just begun...
PURL SOHO
's very cozy "Ticking Stripe Scarf". Lots of cozy yarns and patterns at their site.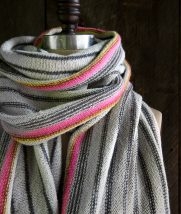 I like these mugs.
I love a pretty cup or mug and when I spied these at Walmart, I knew I would be buying a couple. It's an economical way to have a little beauty for your eye to fall on.
I like the Pantone New Top Ten Colours for Spring 2017.
Interesting, aren't they? Do you think they would make an interesting palette for a quilt?
How do they strike you?
I'm linking this post to
Not Afraid of Color
where you can read lots and lots of Thursday things to like!