So good to be home and getting myself all sorted. Happy to be sharing a few things with you today.
Above is one of the snacks Daughter put me on to...rice crackers with peanut butter and dried cranberries. For me, hard to stop at just two, but it is supposed to be a snack I tell myself.
I'm making my way around the border pieces of my " Cornwall Cottage" cross stitch project. I'm further along than this photo...almost at the end of this side. Slow stitching indeed but every little bit helps.
It is the duller part of it and I'd love to get it out of the way before rewarding myself with the pretty motifs. I follow
Janet Granger's Blog
and she is stitching "Autumn Quakers" by
Rosewood Manor
the same house that released my Cottage piece.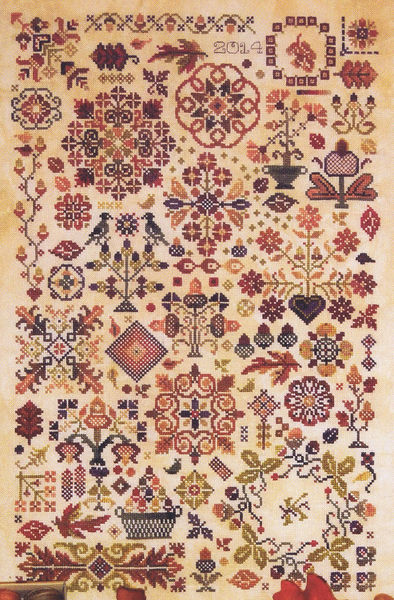 Janet makes the valid point that Autumn Quakers is such a fun pattern to stitch because it is all motifs, no repetitious border to deal with. A thought to keep in mind when choosing the next project.
Do you remember the large applique piece I showed you in
This Post?
I am thinking it might be the work of this designer,
Alison Glass
.
I came across this piece and thought it looked rather similar to the one I had found before. Maybe, perhaps...beautiful work.
Before I forget again, I want to pass along that the wonderful
Mary Corbett
(as I always think of her) of
Needle n' Thread
has been facing down some serious health issues. Because Mary's web site is her business, she doesn't post personal stuff there. What she has been doing is giving a link to letters she has written about her experiences with cancer starting in 2015. They make for some courageous writing.
I think this will lead you to the list of letters
if you are interested.....
I will share this post with
LeeAnna's Not Afraid of Color
and
Michelle's It's A Small Town Life
.
Happy Stitching All