How many dog noses can you see in this picture?
I know because now I am embroidering decorative stitches around each block and it has to be maneuvered and has to sit on my lap and legs to do so.
This is my "basement" project these days in front of the t.v. where it is cooler.
I'm enjoying this embroidery part very much, working whatever stitches I feel like and also using up a bunch of tapestry and crewel wools I've had hanging around.
I've been eager to share this blueberry recipe with you.. the
Heavenly Blueberry and Cream Angel Dessert
posted over at
Mel's Kitchen Cafe
.
I did make it finally and took photos of the process...
There it is...the beginning layers in the large glass bowl.
Angel food cake cubes, cream cheese and sugar mixture and cooked blueberries. It is a very easy recipe to make especially if you use a store bought angel food cake. And a little more economical now that blueberries are in season and the prices have dropped dramatically from back in the winter.
I forgot to get a photo of the completely finished product probably in my haste to get it into my mouth!
But Mel's does look better than mine anyway so I'll show hers.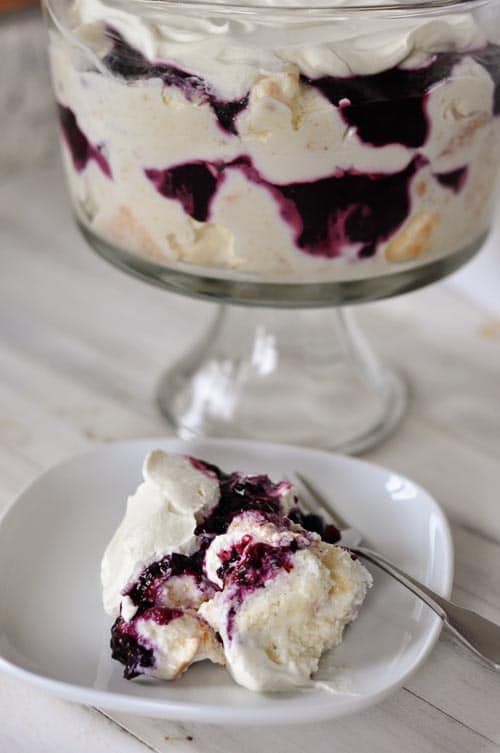 It was so yummy and blueberries and whipped cream just go together beautifully. ( Well, what doesn't go with whipped cream!) You can
Visit Mel's Kitchen Cafe and see the recipe and video for this as well as lots of other great dishes.
Happy Stitching All!
Happily linking up with all the craftastic ideas at
Sew Can Do!