Did you know this? It is
new to me
.
The Gutermann thread spools are hiding a secret.
SuperMom No Cape
wrote this wonderful post about the secrets in your thread spools.
And I had to go right to the sewing room and check it out-sure enough, there is a tiny secret compartment in the middle of the spool especially if one end is covered.
What could one hide there? Needles are obvious, but perhaps a dollar bill or a couple of aspirin. Wouldn't it be interesting to know just what some women hid there. These Gutermann spools have been around since 1864.
Imagine learning a new thing about something I've been handling for decades!
A surprise package in the mail gives us all pleasure, I think.
This a fat quarter bundle I had bid on awhile back and forgotten about from
Massdrop
. Enough of us had entered the 'drop' as they term it, to bring down the price 42%. This is
Morning Song
by
Elizabeth Olwen
for Cloud 9, kind of modernish designs with some deep mauves and cool colour combinations. Good to shake me up a bit. The
Massdrop
quilting and stitching community continues to grow and people are suggesting very interesting items.
I felt lucky to have spied this on the outer garage wall when I went there to give Hubby a hand with the mowing tractor. I raced to grab my camera and it rewarded me with just a few seconds, long enough to get one shot, before flying away. It is the marvelous
Luna Moth
, about four inches across and I was lucky since they only live for about a week, do not feed and have to rely on the food they ate as caterpillars. Isn't nature fascinating! They are an interesting border crosser and have been making their way into Ontario from the United States.
I promised to find out more about Japanese embroiderer
Kimika Hara
and I did. Along the way I visited some wonderful embroidery blogs and almost lost my way, but eventually found this.
Here is the link to Kimika's blog.
Amazing interesting embroidery in her Etsy store too.
And I'm just as taken with her self portrait as I was with her fox at night piece.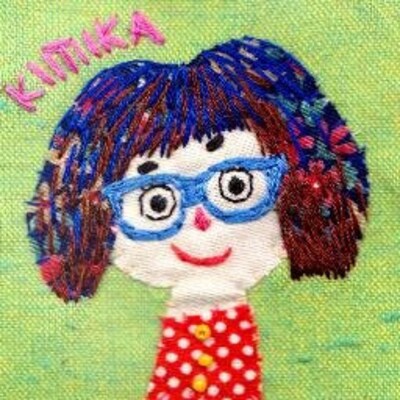 Thank you all for the concern about my poor finger. It is surprisingly quiet...not hurting at all which I don't know if that is a good thing or not. Have I killed it!!
Be sure to click over to
lovely Not Afraid of Color
and visit the likes that others are linking. Also linking with the wonderful thankfulness to be found at
It's A Small Town Life.